2019: Bowing Out, Soldiering On
The spring of 2019 was an eventful one on the presidential campaign front. President Rubio announced that he would seek re-election along with Vice President Nikki Haley as his running mate. With 46% approval, and 48% disapproval, Pres. Rubio's re-election chances look solid but far from certain. 47% of Americans felt that Pres. Rubio deserves re-election, while another 47% say that he does not.
Sen. Kirsten Gillibrand of New York has dropped out of the presidential race citing her desire to "stop the implementation of the failed Rubio agenda," and her need to return to her constituents in New York. Gillibrand struggled early on to break into the middle-tier of the presidential back, and reportedly did not see a viable path to victory in any of the four early states (in 2020, these are still IA, NH, SC, and NV). She is reported to favor Sen. Booker or Sen. Feingold for the nomination as she clashed early on with Sen. Warren at a candidate forum on CNN in New Hampshire.
Former AFL-CIO Richard Trumka will also drop out of the race, having raised only $500,000 in his bid. He will not back a candidate before the early states have concluded, according to a campaign aide.
Meanwhile, aides to Sen. Booker of New Jersey have urged Gov. Andrew Cuomo of New York to drop out of the race as well. Several Booker aides have told reporters that Cuomo's presence in the race is preventing Booker from accessing prominent New York-based donors who will be integral in taking on Sen. Elizabeth Warren. Sen. Booker feels that the race will ultimately come down to him and Warren, and he is focused right now on Iowa with the thinking that Warren will probably win New Hampshire, and that he could eventually win South Carolina with the African American vote.
Sen. Elizabeth Warren of Massachusetts meanwhile has emerged as the prohibitive frontrunner, despite competing against a talented field of Democratic candidates. She also received the endorsement of 2016 Democratic runner up Sen. Bernie Sanders, who held an endorsement rally with her in New Hampshire. Sen. Warren insists that she can expand the Sanders coalition, and she has decided that she will take money from progressive PACs and some businesses, law firms, etc.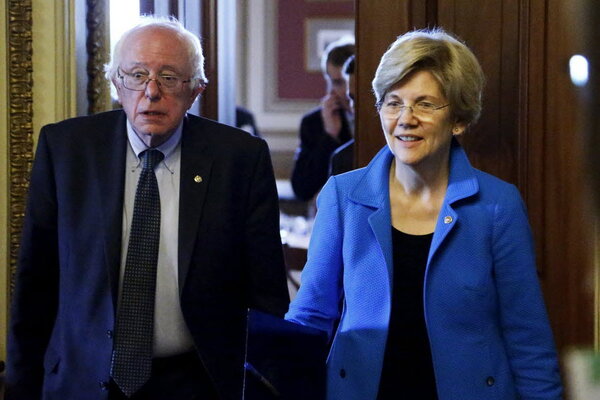 Sen. Russ Feingold of Wisconsin was hoping for a Sanders endorsement as he is trying to capitalize on Sanders working and middle-class Rust Belt supporters. Feingold has focused his campaign on eliminating corruption and implementing campaign finance reforms. He has also taken on issues of food and farming justice, which he hopes will ignite support in both rural and urban communities. His plan essentially is an agricultural stimulus package in which farmers grow food mainly for consumers in food deserts and poor communities. Food coops, charities and non-profits, and states and municipalities, school districts, as well as individuals would purchase the food with government subsidies.
Sen. Tammy Duckworth of Illinois emerged on the scene as an exciting top candidate, but is now being regarded as every candidate's top vice presidential choice. Sen. Duckworth has not campaigned energetically in the first four states and has instead focused so far mainly on her Senate agenda, including serving as lead opposition to almost all of Rubio's cabinet appointments, especially in foreign policy areas.
Last, former Gov. Martin O'Malley of Maryland ranks at the bottom of the pack yet again. He has become the object of late-night TV jokes, with many suggesting that he really wants a low-level cabinet position.
NATIONAL POLL (Washington Post/ABC): 31% Warren, 18% Booker, 11% Feingold, 7% Duckworth, 5% Cuomo, 3% O'Malley, 25% undecided
NATIONAL POLL (New York Times/CBS): 32% Warren, 20% Booker, 11% Feingold, 9% Duckworth, 6% Cuomo, 2% O'Malley, 20% undecided
IOWA POLL (Washington Post/ABC): 29% Warren, 19% Booker, 15% Feingold, 10% Duckworth, 4% Cuomo, 4% O'Malley, 19% undecided
IOWA POLL (New York Times/CBS): 29% Warren, 20% Booker, 14% Feingold, 12% Duckworth, 3% Cuomo, 2% O'Malley, 20% undecided
NEW HAMPSHIRE POLL (Washington Post/ABC): 37% Warren, 13% Booker, 9% Feingold, 7% Cuomo, 5% Duckworth, 2% O'Malley, 27% undecided
NEW HAMPSHIRE POLL (New York Times/CBS): 36% Warren, 15% Booker, 10% Feingold, 7% Cuomo, 6% Duckworth, 2% O'Malley, 24% undecided
COMING UP: A CRAZY SUMMER OF 2019