Consider the vote share of the two main nominees:

Take out the votes for Stein and Johnson, and one gets

Clinton 44/92 = 47.83%
Trump 37/92 = 40.22%

It's hard to see how Hillary Clinton is a particularly good cultural match for Georgia, but it is easy to see how Donald Trump, arguably the worst sort of city slicker possible, is a horrible fit.

https://twitter.com/jbarro/status/761532763526860800?lang=en
Republicans have been doing very well in the South, so there's no room for Trump to improve...
https://twitter.com/Nate_Cohn/status/762303397978525696
Also, metro ATL has a highly educated population. The Republicans inside Atlanta voted Rubio strongly.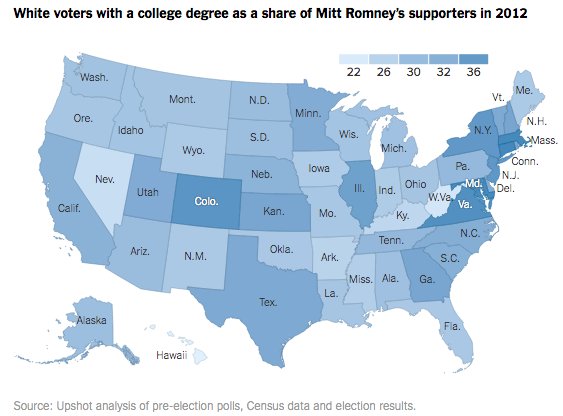 This map would probably explain Trump's support in Nevada as well, along with part of the Clinton trends in CO and VA.
Amazing!
Now I catch onto the narrowness of Clinton leads in Nevada. Badly as Donald Trump is doing with the college-educated white vote, i can see him faring incredibly badly in Colorado and Virginia, giving possible openings to Clinton in Georgia, Arizona, Utah, and Kansas. He could pick up Nevada and ME-02...But he could put Texas at risk.
Formal education makes one less sympathetic to demagogues. Clinton (neither, really) isn't one. Obama, Romney, McCain.... no! Dubya? For all his faults -- no. Not Kerry or Gore. Not Dole. Definitely not the elder Bush. Not really Perot. Reagan? No. Mondale? Certainly not.
Educated voters, whatever their ethnicity, are the dream voters if one can get them. They can vote across regional, religious, and ethnic lines. They vote if they can (that is, if they are citizens). Even if they lack the funds for making donations, they have the time for volunteering for their Parties. If they are stressed for time, then they have funds for making donations. They can hold their own in political conversations as badly-educated people can't.
A high level of formal education used to be a good proxy for Republican voting. In 2008 it became a good proxy for Democratic voting.