The characterization which we (muon2 and myself) have used is based on the population within the urbanized areas within the county. In the case of Lancaster County, this includes 397K in the Lancaster Urbanized Area, and 5K in the Philadelphia Urbanized Area, for a total of 402K in urbanized areas (the total and percentages were based on actual values, then rounded).


makes sense. Thank you.

I don't know whether you have been following the redistricting discussion mostly between Muon2, Torie, and myself, but a goal is to have congressional districts constructed primarily from counties, and to have objective criteria for comparing different plans.


also makes sense, but good luck getting that through the PA legislature. Here's a map for a typical congressional district: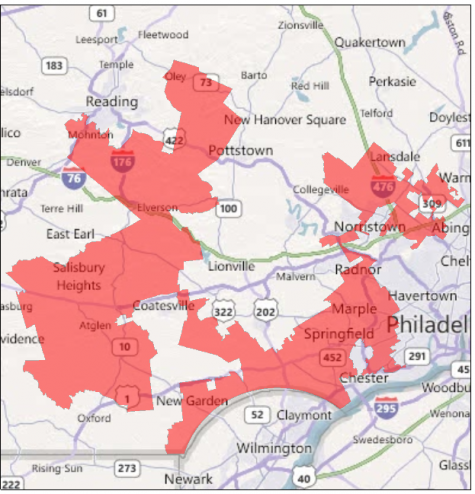 pretty creative, don't you think? (The area labeled Salisbury Heights is probably where the 5000 people live who are not in the Lancaster MSA but in the Philadelphia MSA.)
In 2014 the Pubs in the OH legislature realized they may not hold the legislative trifecta indefinitely. They put together a bipartisan compromise that didn't help them keep their 2010 gains, but insured that the reverse couldn't happen. It passed as a constitutional amendment in 2015.
OH didn't have all the fine details of our system, but they headed in some of the right direction. The question is whether PA will also recognize that missing the Gov and Supremes, it won't necessarily be enough to have the legislature. When they realize that, they too may go for an amendment.
Pennsylvania has a requirement in the state constitution to not split political subdivisions. In Pennsylvania this is a particular challenge since the subdivisions don't necessarily nest, and there are odd collections of units such as boroughs.
Nonetheless, the Pennsylvania Supreme Court overturned the legislature's plan.
If a more relaxed standard of population equality were used it would be easier to apportion Pennsylvania.
You could put 6 districts in the Philadelphia UCC.
Put Lancaster and Lebanon together.
Base a district in Harrisburg.
Go west from York.
One district in the Lehigh Valley.
One district based on Scranton-Wilkes-Barre area.
Three districts in southwestern Pennsylvania.
Divide the remainder of the state into 4 districts that would draw themselves.