This is Newkirk Plaza, just a little bit north of me. Newkirk Plaza is a unique and wonderful place- an open-air pedestrian mall that was built on top of a train station all the way back in 1907, back when the train, which runs in an open cut, was the Brighton Beach line to Coney Island (now it's the B and Q to Coney Island). They spruced it up about five years ago (it used to be kind of run down for awhile), and now it's quite nice but it's worth noting that the stores there are really
not
fancy and upscale at all. If you want anything fancy you go one stop north to Cortelyou Ave., which has a couple blocks of that sort of stuff. I don't think there's another station in the entire city with this sort of plaza setup, which is a shame.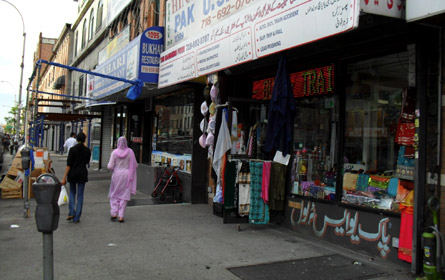 Coney Island Avenue is a major arterial just to my west. It's the center of Little Pakistan, a large immigrant community of-you guessed it- Pakistanis.
We also have leafy tree-lined streets with Victorian houses on 'em. Some of which have gotten historic neighborhood designations (a development I'm honestly kind of ambivalent about) Yes, in the middle of Brooklyn, side-by-side with apartments and subways. This is what suburbs
should
be like.
No, I do not live in one of these houses. Though some of them have been subdivided and are rented out by the floor.
Go over to the east of me and you'll hit Brooklyn College, as well as the well-named "Hot Spot Tot Lot", a pocket playground decorated with parrots in tribute to the flock of green parrots that live there (escaped pets, presumably, but they've been around for years). They hide in the athletic field lights when things get cold.
This real estate office in the middle of the woods, circa 1906...
is now my subway station. (This is an old picture; they've added some rocking chairs that don't rock as an art installation since then. But this picture gets the surroundings better.)
...
To be honest, I don't venture south all that much. There's a little-used freight line that people sometimes talk about converting to an outer-borough light rail option... and then it's mostly various flavors of Orthodox Jews as far as the eye can see. Midwood is not as monolithic as Borough Park, though.